About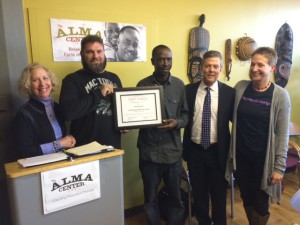 Alma Center History
The Alma Center, Inc. launched in 2004 as an evidence-based trauma-informed alternative to prevailing punitive methods of working with domestic violence offenders. Founded by Terri Strodthoff, PhD, the organization continues to use an innovative healing approach that recognizes domestic violence is a cycle, a cycle that can be broken.
For 12 years, the agency has worked with more than 4,300 men through a pioneering healing-focused approach, impacting the lives of more than 10,000 children. Alma Center's community-based programing helps adult males with violent histories become caring fathers, partners, husband, and community advocates. A recent outcome study found that completion of AC's core program, Men Ending Violence, is associated with an 86% decrease in repeat domestic violence offenses.
In 2012 AC was identified in a national review as one of the top ten most promising and innovative programs in the country, and in 2014 AC received the prestigious Celebrating Solutions Award for innovation in dv prevention, selected by a panel of leading experts from more than 300 national nominees.